First Mate William Miller was born in Grindon, County Durham, Yorkshire, United Kingdom on October 25th 1879.

He was the second eldest of eight children, four daughters and four sons. The three oldest Miller boys went to sea. William and one brother eventually becoming "Trinity House Pilots".

Shortly afer his service on the County of Roxburgh he moved to Australia where he lived until his death on May 4th 1924. He was only 44.

On February 8, 1906 William Miller was a hero for it was he who braved the dangerous waters to swim to shore with a line from the ship tied around his waist in order to rescue the crew that remained.

Once ashore, local Takaroan men came to his aid tying the rope to a tree and pulling hard on it to signal the crew that they could begin to come ashore by clinging to it. This remarkable act of bravery is documented on page 6 of:

by Charles W. Domville-Fife

In 1909 William married Elsie Mabel Lyne. She was a school
teacher at Newcastle, a large coal mining city in New South
Wales. They settled in Geraldton, Western Australia where
William had been appointed Harbour Master.








While living in Geraldton they had two sons:

William Geoffrey 'Geoff'
born January 30th 1914 - died March 13, 1975
and
David Lyne
born September 13, 1915 - died July 10, 1976

In 1918 William was appointed Harbour Master in Albany,
Western Australia, so they moved to this much larger city
where their daughter Mary was born about a year later.

William held his position as Harbour Master until his death in 1924.

After his death, Elsie took the three children to England to meet
William's family returning after a few months to Belmont, near
Newcastle, New South Wales. There the children went to school
until, at 15, the boys could 'go to sea' like their fathers and uncles.

Sadly Mary died on May 14, 1937 at the young age of 18.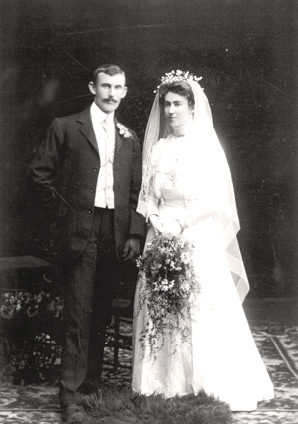 William and Elsie's second son, David Lyne Miller first went to sea in 1930 as a cabin boy eventually becoming a First Mate later that decade. After the bombing of Pearl Harbour, with Australia joining the Second World War, David enlisted with the Royal Australian Air Force (RAAF) at the rank of Flight Lieutenant. He met his wife, Patricia Mary Larkin, at this time who had also enlisted with the RAAF.




William, Elsie,
Geoff and David





William and Elsie

Circa 1920
in Albany





David Lyne Miller and Patricia had two sons:

Geoffrey Charles Miller born August 17, 1943
and
Christopher David Miller born July 3, 1948

Today Geoffrey 'Geoff' is married to Sue Sutherland Miller and they live in Castle Hill, Sydney, Australia

Christopher married Catherine Mary Kenna in January of 1973 and they live in Shell Cove, New South Wales, Australia.

Other relatives of William Miller's are:

a niece Verna May Long (nee Aspinall) b. 1932 of Chelmsford, Essex, UK and her brother
(William's nephew) Frederick Anthony 'Tony' Aspinall b. 1936 of Heathfield, East Essex, UK.

Both Verna and Tony were very helpful to Geoff in providing much of the information about William's history.






WILLIAM MILLER'S ORIGINAL DOCUMENTS

This is a picture of Miller's 'Certificate of Discharge' book
opened to the page signed by Captain Leslie upon
First Mate Miller's discharge from the County of Roxburgh.
The 4th entry shows him boarding the ship on May 19, 1904
in Hamburg and discharged 22 months later March 26, 1906
in Papeete.

For a larger view, click inside the frame. Remember to close
the opened window after viewing.